The Nile is the world's longest river. It meanders it's way north from it's two sources through an astonishing 6680 km (4175 miles) of Africa until it reaches the Mediterranean Sea. The White Nile flows out of Lake Victoria in Uganda and the Blue Nile emerges from Lake Tana in the Ethiopian Highlands. They eventually meet at Khartoum in Sudan and only a single tributary joins it for the rest of the way. The river is shared by ten countries but Egypt is the main beneficiary. Rain seldom falls on this part and so without this mighty river the Country would cease to exist.
Until the arrival of decent roads and the railway in the late 19th Century, the Nile was the main highway of Egypt. What better way to move cargo and visit other areas?
The most famous stretch of the Nile is between Aswan and Luxor (Thebes). How else to experience the beauty of the river than by sailing on it? And the only way to do this to fully immerse yourself in the ambience is by a traditional Egyptian sailing boat known as a Felucca.
Let's be clear here. This ain't no Cunard ferry. There aren't even any toilets on board and if it's an overnight trip you sleep out in the open with the stars & moon for company. How wonderfully blissful does that sound?
And it was. Leaving Aswan midmorning this was as close as I could get to the river, that is until I went for a swim in it to cool myself down from the usual intense heat. You basically zig-zag from one side of the river to another and let the rest of the world do it's own crazy thing. It was absolutely wonderful. I was worried that after a few hours someone hyper like me might have gone a little stir crazy but I didn't. I just allowed myself to kickback & relax.
A little bit of sunbathing, some reading, a refreshing swim in the river along with some Egyptian kids before they decided to bring their cow along for a dip.... All wonderful ways to do some much recharging of your batteries.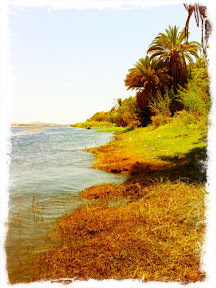 The wind was pretty strong but even had it not been the northward current is strong so that boats are rarely marooned. Feluccas are not allowed to sail at night and so we stopped just before sunset with the support boat on which dinner would be served. Watching a glowing sun set over the west bank was pretty spectacular.
As the sky goddess Nut swallowed the evening sun, the stars began to appear in the night sky signaling that another amazing day was almost at an end.
Return to normal next week? I'm in De-Nile....
- Posted using BlogPress from Nic's iPad